Since 1967, HESCO has specialized in hydraulic repairs for Industrial, Construction, Agricultural, Saw Mill, Wrecker, Waste and Refuse Equipment in Central Virginia.
ON-SITE REPAIRS
Two (2) fully equipped services trucks to handle on-site repair needs.
VEHICLES
Backhoes
Cranes
Dump Trucks
Pavers
Equipment
Scissorlifts
Dock Lifts
Compactors
Engine Hoists
Tools
Power Units
Rams
Presses
Shears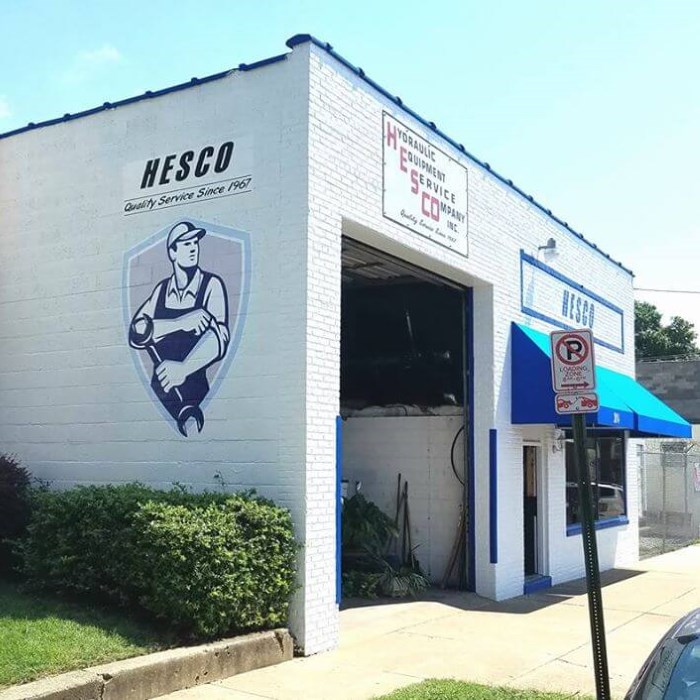 IN-SHOP REPAIRS
A 6732 sq. ft. shop with a 3000 sq.ft. secured yard to accommodate in-shop repairs.
Cylinders
Tie-rod
Welded Rod
Telescopic
Single / Double Acting
Pumps
Single / Double Action
Radial / Axial Piston
Internal / External Gear
Centrifungal
Valves
Directional Control
Pressure Control
Proportional Control
Flow Control
Parts
A fully stocked parts department – if we don't have it, we can get it.
Hoses
Reinforced Rubber
Steel Reinforced Teflon
Coiled
Corrugated & Articulated
Rings
O & Back-up
Teflon Piston
Quad
Cast Iron Piston
Seals
Assorted Metric
Assorted Vinton
"U" Style Piston & Rod
"T" Style Piston & Rod

"Great service, have been dealing there many years. Wide selection of hyd[raulic] seals and good people."
Jodi

"Great shop, great guys. Fixed my lift gate in the street. Tom or Thomas has a great attitude and work ethic… "
Jim

"HESCO has been and still is a vital industrial resource in this area. My company uses them often with 105% performance rendered every time."
Ryland

"I want to shout out a big thanks for fixing my hydraulic knife that no one in Richmond would even look at."
Deniz
HESCO
Hydraulic Equipment Service Company, Inc.
Visit
3014 W. Marshall St.
Richmond, VA 23230
Call
(804) 353-0944
On Call 24/7
Hours
Mon-Fri: 7:30 AM - 4:30 PM
Sat & Sun: On Call